Order your championship
photos today

2013

Girls Softball Info
2013 Tournament Info
Girls Softball History
Softball News and Notes
2013 Sectional/District/Regional Tournaments
2013 State Tournament Information
Thursday, June 6 - Championship Semifinals
(Click on match-up to view box score)

10:00 a.m.

Division I Semifinal 1

12:30 p.m.

Division I Semifinal 2

3:00 p.m.

Division IV Semifinal 1

5:30 p.m.

Division IV Semifinal 2

Friday, June 7 - Championship Semifinals
(Click on match-up to view box score)

10:00 a.m.

Division III Semifinal 1

12:30 p.m.

Division III Semifinal 2

3:00 p.m.

Division II Semifinal 1

5:30 p.m.

Division II Semifinal 2

Saturday, June 8 - Championship Finals
(Click on match-up to view box score)

10:00 a.m.

Division I Final

1:00 p.m.

Division IV Final

4:00 p.m.

Division III Final

7:00 p.m.

Division II Final
Ohio High School Fastpitch Softball Coaches Association State Polls
Click here for how a panel of coaches rate Ohio high school softball teams in the weekly 2013 poll.
Louisville Slugger oneX Softball Bats Recalled
March 6 - The National Federation of High Schools (NFHS) has notified the OHSAA that Louisville Slugger has recalled its oneX bats because of a manufacturing issue that has compromised the durability of the bat which potentially shows up in the form of cracking between the barrel and handle. In extreme cases, the manufacturing defect has resulted in a complete fracture between the handle and barrel.
The entire current line of oneX bats are being recalled. Model numbers affected by the recall are FP136, FP1369 and FP 1368.The company will replace the recalled bats with 2013 Xeno bats and will discuss options with each customer to satisfy the price difference between the oneX and the Xeno replacement bat the customer will receive.
If you or anyone you know has purchased this bat, a customer service representative can be reached at 1-800-282-2287.
2013 Online Rules Meeting for Coaches
March 26 - The online softball meeting has expired for coaches and officials. If you have not received meeting attendance credit, you will need to contact Renee Moore by phone at 614-267-2502 ext. 106 with your credit card information (Visa or Mastercard only). There is a $50 fee to receive the link for the online meeting. The last day to complete the meeting is April 5, 2013 at noon.
2013 Softball Umpire State Meetings Information
Jan. 23 - The OHSAA will offer online and face to face meetings for softball umpires for the 2013 season. Click here to read more.
"Hit By Pitch" Procedure Revised in High School Softball
July 24 - Batters in high school softball no longer will have to make an attempt to avoid being hit by a pitch in order to be awarded first base. Click here to read more.
Keystone's Jim Piazza named ESPNHS National Coach of the Year
July 13 - LaGrange Keystone's softball coach, Jim Piazza, has been named the ESPNHS National Coach of the Year. Piazza wins the award after guiding the Wildcats to an undefeated 32-0 Division II state softball championship. Click here to read more.
2012 Information and State Tournament Coverage, Stats & Recaps
Aug. 6 - Sept. 3, 2012
Coach No Contact Period
Feb. 25
First Day of Coaching
Mar. 30
Season Begins
April 22
Non-Interscholastic Competition No Longer Permitted
May 5
Sectional Tournament Draw Date
May 13 - May 18
Sectional Tournament
May 20 - May 25
District Tournament
May 29 - June 1
Regional Tournament
June 6-8
State Tournament
June 15
Season Ends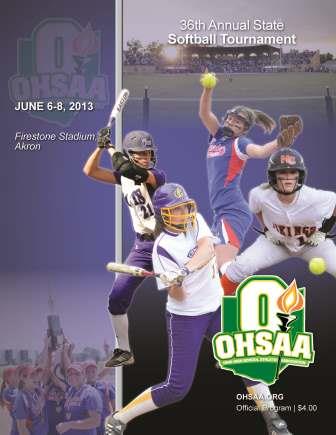 Order 2013 State Softball Tournament Programs



The Official Ball of the OHSAA Championships