Order your championship
photos today

Boys Tennis Information
Tournament Information
Boys Tennis History
Boys Tennis News and Notes
Tennis Coaches Online Rules Meeting (http://ohsaa.articulate-online.com/4244075334)
The online rules interpretation meeting will be offered from July 19 at 4 pm through Tuesday, August 23 at 11:59 pm without penalty. After August 23, there will be a $50.00 late fee to take the rules meeting and receive credit. The deadline with penalty is September 16 at 11:59 pm.
REMINDER: Do not use a tablet or mobile device to take the rules meeting—your attendance will not be recorded if done so. We ask that you use a desktop/laptop computer. Once you have reached the final slide, you have completed the rules meeting—please know that we no longer send confirmation emails. You may screenshot the final slide to keep for your records, if you wish. Your Athletic Director can check the myOHSAA page for attendance verification; however, it takes several days for the attendance to appear on myOHSAA. Your Athletic Director will be sent reminder emails from OHSAA prior to the deadline if your school has not received credit for the required rules meeting.
You must enter ALL credentials to receive credit, the most important being your School ID #. You can find a list of all OHSAA School ID #'s here: http://www.ohsaa.org/members/school_id.htm
2016 State Tournament Information
---
Times and Format: Play begins at the Lindner Family Tennis Center on Friday, with ALL Singles matches starting at 9 a.m., followed by Dll Doubles followed by Dl Doubles.

State Tournament Thursday Practice Schedule: The Lindner Family Tennis Center courts will be available for practice all day Thursday. First come, first served until 7 p.m.
---
Indoor Facilities In Case of Inclement Weather on Friday, May 27

Five Seasons Family Sports Club, 11790 Snider Rd., Cincinnati 45249

Queen City Racquet Club, 11275 Chester Rd., Cincinnati 45246

Camargo Racquet Club, 8215 Camargo Rd., Cincinnati 45243

The Club at Harper's Point, 8675 E. Kemper Rd., Cincinnati 45249

Indoor Facilities in Case of Inclement Weather on Saturday, May 28

Five Seasons Family Sports Club, 11790 Snider Rd., Cincinnati 45249
2016 Ohio Tennis Coaches Association Polls:
May 6 - Week 1 | May 13 - Week 2 | May 20 - Week 3 | May 26 - Week 4 | June 10 - Final
2016 Sectional/District Tournament Information
Media Information: Notify the tournament site manager to arrange for media credentials, if needed. Click on the link above and select the district you are covering to find the tournament site manager's contact information.
Tournament Information for Fans
Mar. 7, 2016
First Day of Coaching
Mar. 25
Season Begins
April 11
Non-Interscholastic Competition No Longer Permitted

May 1,

2 p.m.

Sectional Tournament Draw Date
May 9 - May 14
Sectional Tournament
May 16 - May 21
District Tournament
May 27 - May 28
State Tournament
June 4
Season Ends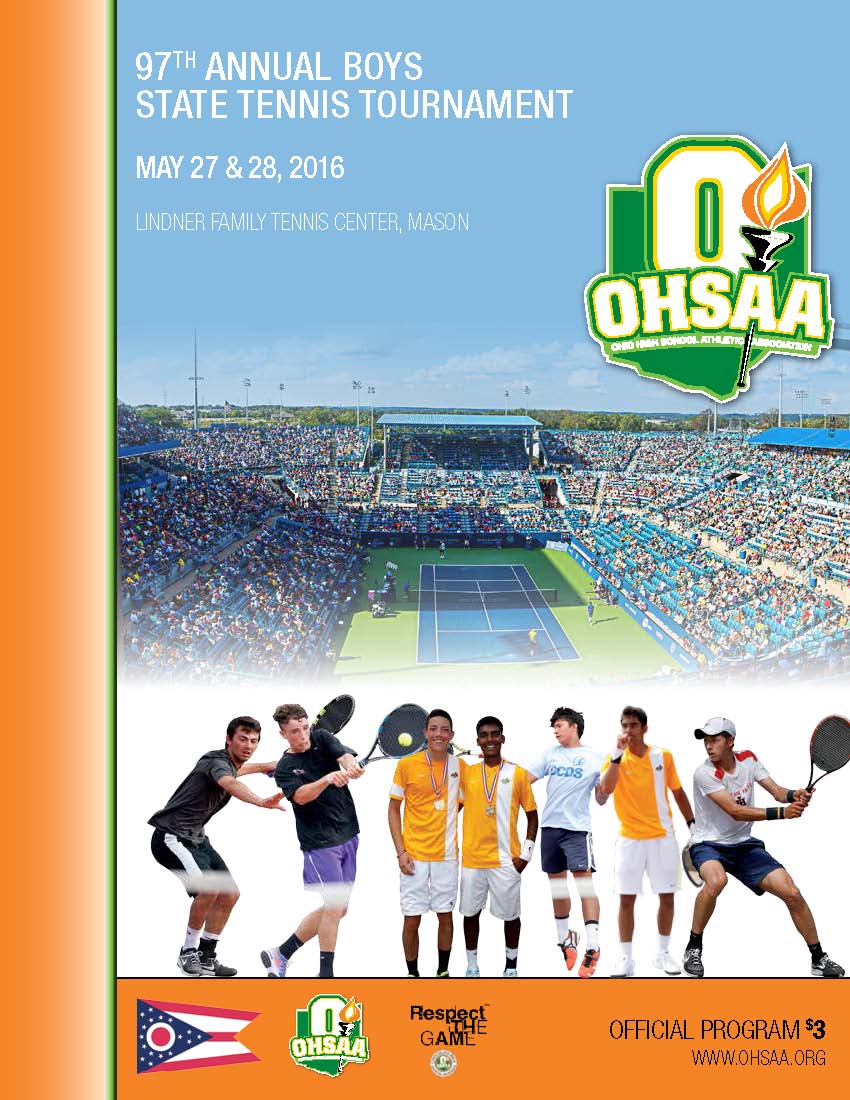 Order 2016 State Tennis Tournament Programs



Directions, Hotels, Tickets, Gear, Programs, DVDs