Order your championship
photos today

Boys Tennis Information
Tournament Information
Boys Tennis History
Boys Tennis News and Notes
2015 Ohio Tennis Coaches Association All-State Boys Tennis Team
2015 State Tournament Information
May 29 and May 30 - OSU Outdoor Varsity Tennis Courts

Times and Format: Play begins both days at 9 a.m. with Division I singles players, followed by Division II singles players, followed by doubles teams.

Rain Facility: Elysium Tennis Center, Plain City

State Tournament Brackets
2015 Sectional/District Tournament Information
Media Information: Notify the tournament site manager to arrange for media credentials, if needed. Click on the link above and select the district you are covering to find the tournament site manager's contact information.
Ohio Tennis Coaches Association Polls:
April 20 - Week 1 | April 27 - Week 2 | May 5 - Week 3 | May 11 - Week 4 | May 19 - Week 5
Tournament Information for Fans
No dogs or pets allowed in the facility. Tents are permitted.

Parking at OSU: Parking for spectators for the state boys tennis tournament will be available at the lot adjacent to the Jesse Owens Memorial Stadium off Fred Taylor Drive. Some Handicapped Parking will be available in the small parking lot directly adjacent to the courts. This lot is also reserved for tournament officials and OHSAA personnel.
Mar. 7, 2016
First Day of Coaching
Mar. 25
Season Begins
April 11
Non-Interscholastic Competition No Longer Permitted

May 1,

2 p.m.

Sectional Tournament Draw Date
May 9 - May 14
Sectional Tournament
May 16 - May 21
District Tournament
May 27 - May 28
State Tournament
June 4
Season Ends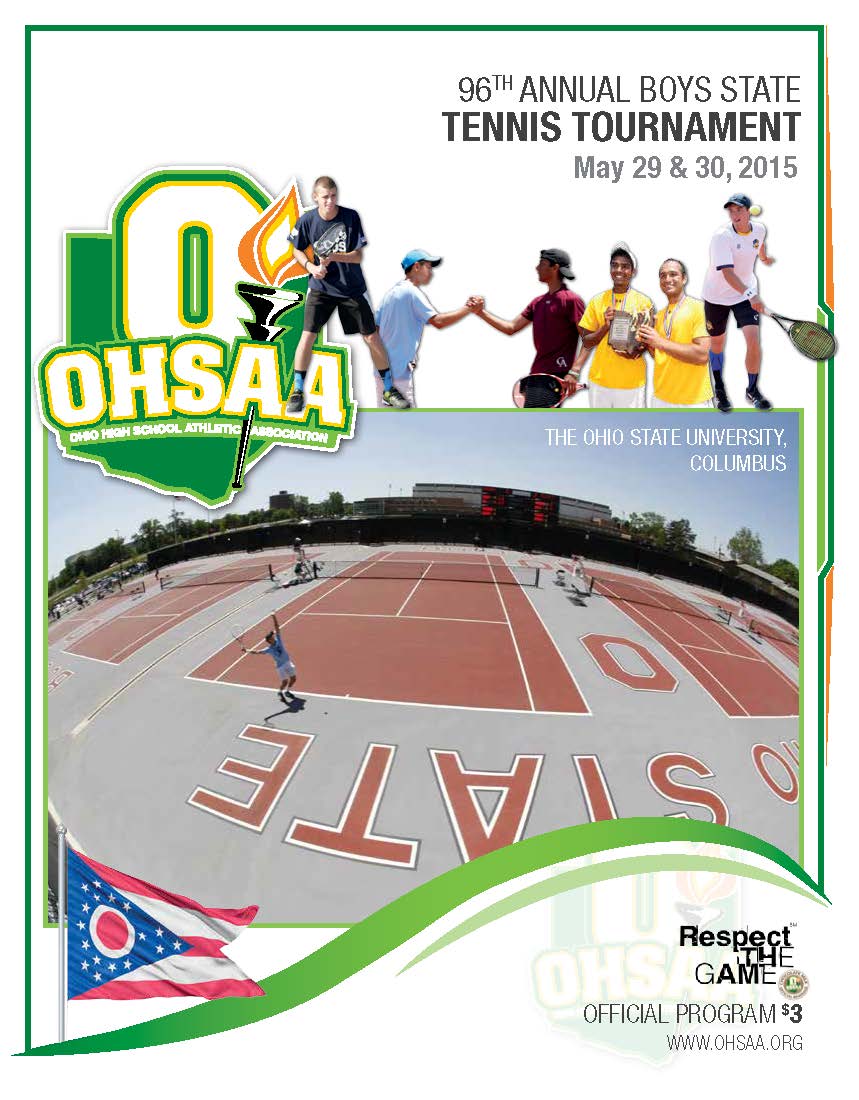 Order 2015 State Tennis Tournament Programs



Directions, Hotels, Tickets, Gear, Programs, DVDs