Saturday, October 18, 2014
The semifinals and championship matches of the girls tennis state tournament will be played indoors at the Elysium Tennis Center in Plain City. Please see directions and parking details below.
2014 OHSAA Girls Tennis State Tournament Coverage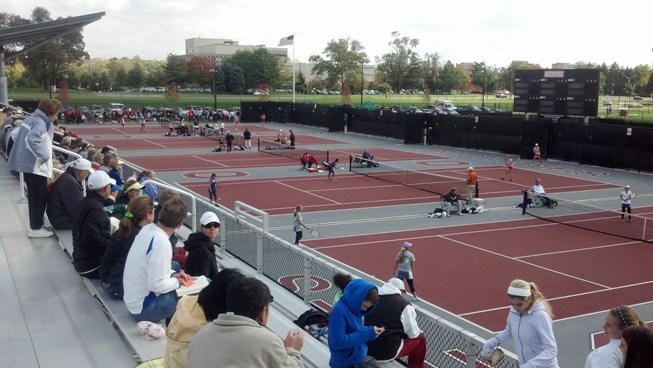 Order State Tournament Photos From Impact Action Sports Photography
2014 OHSAA Girls Tennis State Tournament
OSU Outdoor Varsity Tennis Courts & Hilliard Davidson High School
October 17-18, 2014
Important Parking Announcements

Spectator parking if the tournament should move to Elysium Tennis Center (Click here for directions) in Plain City on Friday, October 17, will be available on a limited basis at Distinctive Marble and Granite, 7635 Commerce Place. Please do not park in the employee spaces immediately in front of the business. Park only in those spaces indicated "ohsaa tennis parking" outlined on the map. Click here to view the Elysium parking map. 115 spaces have graciously been made available to you by Distinctive Marble and Granite. You may not park in the spaces near distinctive marble and granite's smaller hub (directly adjacent to the outdoor Elysium courts).
Additional parking has also been made available on Friday, October 17 by Midwest Retail Services. Please do not park in the spaces directly across from 7670 Commerce Place (the spaces across from the curb that runs along the front of the building are reserved for Midwest Retail employees). All other spaces in the actual lot that surrounds 7670 will be available to spectators (approximately 24 spaces).
Please do not block the entrances/exits or loading docks of these respective businesses.
The OHSAA would like to extend a "thank you" to these two businesses! If you park along side the street or in other business lots, you will be towed! There will be limited handicap parking at Elysium Tennis Center. On Saturday, October 18, the same parking arrangement has been made with distinctive marble and granite. This business is open on Saturday's. Midwest Retail Services, 7670 commerce place, is closed on Saturday and that lot will be available for spectator parking.
The OHSAA sincerely apologizes for the mistakes made in the 2014 Girls Tennis State Tournament Draw. Revised Draws/Brackets are now posted as of 1:00pm on 10/14/14.
Division I - Singles Bracket | Doubles Bracket | Coaches
Division II - Singles Bracket | Doubles Bracket | Coaches
##########
2014 Girls Tennis State Tournament Recap

Division I
The OHSAA Girls Tennis State Tournament concluded at Elysium Tennis Center in Plain City, Ohio for the third-consecutive year. Four new state champions were crowned and one player earned her school's first OHSAA Girls Tennis Singles State Championship.

Hamilton High School senior Cassidy Hicks became Hamilton's first girls tennis player to win a singles state championship after defeating 2013 state tournament qualifier Molly Sandberg (Sophomore, Cuyahoga Falls Walsh Jesuit), 6-3, 6-1 in the Division I singles state championship match. Hicks won all of her state tournament matches in two games. Cincinnati Sycamore junior Alexa Abele captured third place honors with a 6-0, 7-6 (8-6) victory against Massillon Jackson senior Tessa Hill.

Upper Arlington doubles pair Audrey Berger (senior) and Kyra Jung (sophomore) captured the fifth girls tennis doubles state championship for Upper Arlington and its first since 2003 with a 6-3, 6-4 state finals victory. Pickerington Central doubles pair Kyah Thomas (senior) and Isis Thomas (senior) were earned state-runner up honors. Toledo Notre Dame Academy's Teagan McNamara (senior) and Alicia Nahhas (junior) claimed third place with a consolation match victory of 6-4, 7-5 vs. Dublin Jerome's Victoria Chang (freshman) and Rhiannon James (senior). McNamara and Nahhas were playing in their third consecutive girls tennis state doubles tournament.

Division II
Shaker Heights Hathaway Brown sophomore Lauren Gillinov won the OHSAA Division II girls tennis singles state championship with a 7-6 (C), 6-1 victory over Sandusky Perkins sophomore Olivia Rohrbacher. Her victory is the third all-time girls tennis singles state championship for Hathaway Brown and the second consecutive Division II singles state championship for the school. Ariana Iranpour won the 2013 OHSAA Division II singles state championship for Hathaway Brown. Shaker Heights Laurel senior Danielle Buchinsky took third place, while Gates Mills Gilmour Academy sophomore Claudia Althans finished fourth.

Kettering Archbishop Alter doubles pair Lauren Hawley (senior) and Amanda Showalter (sophomore) won the Division II doubles state championship by a score of 6-2, 6-2 against Shaker Heights Hathaway Brown doubles pair Catherine Areklett (sophomore) and Allyson Persky (sophomore). The win for Hawley/Showalter gives Kettering Archbishop Alter its second all-time OHSAA girls tennis state doubles championship and its first since 1976. 2013 Division II doubles state champions Adrian Young (senior) and Alissa Nakamoto (sophomore) took third place for Pepper Pike Orange, winning the consolation match 6-3, 6-3. Lexington doubles pair Alex Griebling (senior) and Jillian Earnest (senior) were named fourth place.
##########
---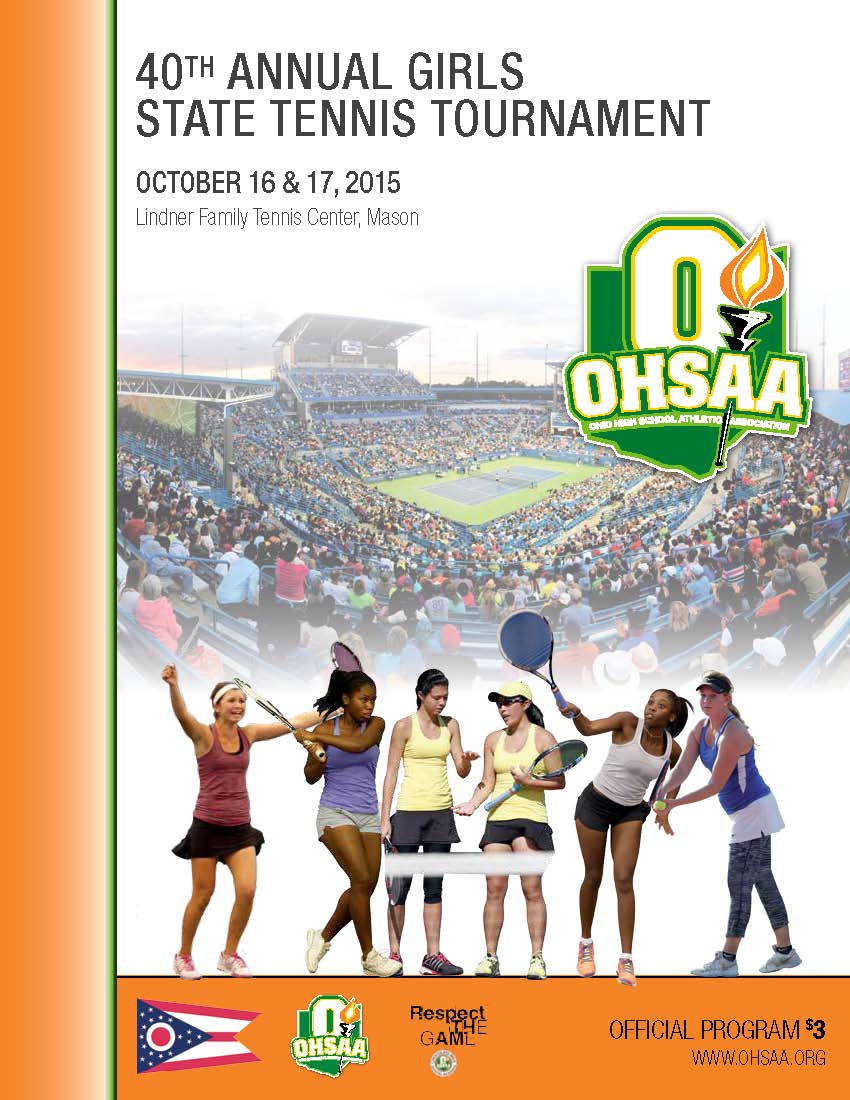 Purchase your official OHSAA souvenir program at the state tournament or click here.
Follow on Twitter @OHSAASports
Follow on Facebook www.facebook.com/ohsaa
Follow on YouTube www.YouTube.com/OHSAAVideos

Directions, Hotels, Tickets, Gear, Programs, DVDs, Photos


Impact Action Sports Photography is the official photographer of the OHSAA. A parent request form is available to fill in detailed information in helping photographers satisfy requests in covering specific athletes. Click here to fill out a parent request form.
### OHSAA ###