---
2010 OHSAA Ice Hockey State Champions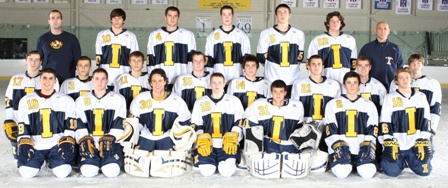 Cleveland St. Ignatius High School
Coach Patrick O'Rourke
St. Ignatius Claims Second State Ice Hockey Title

Wildcat forward Spellacy shines with a goal and two assists

Box Score
COLUMBUS, Ohio – Cleveland St. Ignatius captured its second OHSAA State Ice Hockey Championship Sunday by defeating Sylvania Northview 4-1 at Nationwide Arena in Columbus. The first title for the Wildcats came in 2000.
St. Ignatius took a 2-0 lead into the third period thanks to a first-period goal from sophomore forward Colton Riemenschneider and a second-period score from senior defenseman Chris Knoth. Northview pulled to within a goal early in the third period when senior forward Mark Hall found the back of the net, but St. Ignatius answered quickly.
Just over three minutes later, sophomore forward Paddy Spellacy, who also collected two assists, broke away to score an unassisted goal. Senior defenseman Sam Nader's power-play goal two minutes later iced the contest.
St. Ignatius, who finishes its state championship season at 31-7-3, held a dominating 32 to 17 shot advantage and registered six penalty kills en route to the victory. Junior goalie Josh Potts collected 16 saves.
The game was a rematch of a regular season tilt that saw the two teams battle to a scoreless tie. Sylvania Northview, making its fourth state final appearance, ends the season at 21-9-3 with the program's fourth state runner-up finish.
---
St. Ignatius Knocks Out Defending State Champions 5-1 in State Semifinal
Down a goal, Wildcats score five unanswered to get by Preppers
COLUMBUS, Ohio – Cleveland St. Ignatius downed defending state champion Hunting Valley University School 5-1 in the first semifinal of the OHSAA State Ice Hockey Championships Saturday morning at Nationwide Arena in Columbus.
This was the fourth meeting between the two schools with University School winning two out of three during the regular season. The Wildcats move to 30-7-3 on the year, while the Preppers' season ends at 22-11-2.
University School got on the board first with a first-period goal by sophomore Matt Wipper. St. Ignatius responded 36 seconds later with a goal from senior Jacob Riemenschneider, and it was all Wildcats thereafter. A goal by sophomore Paddy Spellacy and a short-handed goal by senior Asa Frebes, both in the first minute of the second period, put the Wildcats on top 3-1.
Senior John Jeziorowski's goal later in the period and Michael Wells' third-period goal extended St. Ignatius' lead to 5-1. Although University School outshot the Wildcats 31-27, St. Ignatius junior goalie Josh Potts held the Preppers at bay with his 30 saves.
St. Ignatius will go for its second state title Sunday at 12:00 p.m against Sylvania Northview, 4-0 victors over Dublin Coffman in the second semifinal. The game will be a rematch of a regular-season meeting where the schools battled to a scoreless tie.
---
Sylvania Northview Marches to State Final with 4-0 Win over Dublin Coffman

Wildcats will get fourth shot at a state title
COLUMBUS, Ohio – Sylvania Northview shutout Dublin Coffman 4-0 in the second state semifinal of the OHSAA State Ice Hockey Championships Saturday at Nationwide Arena in Columbus.
Aiming for its first state title in four tries, Northview moves to 21-8-3 on the season and advances to face Cleveland St. Ignatius in the state championship Sunday at noon. The victory gives the Wildcats their 11th consecutive win. Dublin Coffman, appearing in the state tournament for the first time, ends its season at 30-8-2.
Northview did most of its damage late in each period. Sophomore Zach Felser's goal in the final minute of the first period and junior Nolan Culver's goal in the final minute of the second period gave the Wildcats a 2-0 advantage. Junior Tyler Harding and Culver scored short-handed goals late in the third period to seal the 4-0 victory.
Northview had twice as many shots on goal than Dublin Coffman registered, peppering 30 shots to the Rocks' 15. Sophomore goalie Austin Gryca kept his goal clean for the Wildcats and stopped eight third-period shots to thwart any Dublin Coffman comeback attempt.