Order your championship
photos today

Baseball Information
Tournament Information
Baseball History
Baseball News and Notes
Baseball State Rules Meeting: Deadline - March 13, 2015. A late fee of $50 will now be assessed. To view the online rules meeting with penalty, please contact Nate Lawrence with credit card information to pay late fee and receive meeting link. Last day to view online rules meeting with a late fee is Tuesday, March 24, 2015.
Do not attempt to view online rules meetings on Android Mobile Phone or Tablet Computers.
Note: [ Online Rules Meeting Problem Troubleshooting ]

In order to view the online presentation it is recommended that users use IE7.0 or higher; in addition Adobe Flashplayer must be installed on your PC; also, make sure your playback device (speakers) are working properly. Flashplayer is a free download from Adobe and can be downloaded from their web site at http://www.adobe.com/go/getflashplayer. OHSAA will not take phone calls or troubleshoot any user computer hardware or software problems.
2015 State Tournament Information
2015 Sectional/District/Regional Tournaments
Statewide Tournament Brackets

2015 Regional/State Tournament Brackets: Div. I | Div. II | Div. III | Div. IV
This Week In Baseball with Jerry Snodgrass
Including Questions & Answers About "Offseason" Baseball
OHSAA Assistant Commissioner Jerry Snodgrass provides a baseball notebook featuring FAQs and other points of emphasis for "offseason" baseball. Click here to read.
Ohio High School Baseball Coaches Association State Polls
How a panel of coaches rate Ohio high school baseball teams in the weekly OHSBCA poll of 2015.
2014 State Tournament Information
2012-13 Baseball News
NFHS Bat Decertification: The NFHS has issued notifications that the following bats previously approved and marked with the BBCOR marking have been decertified and will subsequently be considered an illegal bat
Aug. 15, 2012 - Reebok Bat Decertification | Feb. 23, 2012 - Marucci Bat Decertification
July 13 - The NFHS has released recent rule changes for high school baseball to be enforced during the 2012-13 school year. Click here for more
2012-13 NFHS Baseball Fundamentals of Coaching: Dec. 21 - The National Federation of State High School Associations (NFHS), in partnership with USA Baseball, has developed "Fundamentals of Coaching Baseball" – the latest online sport-specific course in its Coach Education Program. Click here for more.
Aug. 4-Sept. 1, 2014
Coaches' No Contact Period
Feb. 23, 2015
First Day of Coaching
Mar. 28
Season Begins
April 20
Non-Interscholastic Competition
No Longer Permitted
May 3, 2:00 p.m.
Sectional Tournament Draw Date
May 9-16
Sectional Tournament
May 18-23
District Tournament
May 28-29
Regional Tournament
June 4-6
State Tournament
June 13
Season Ends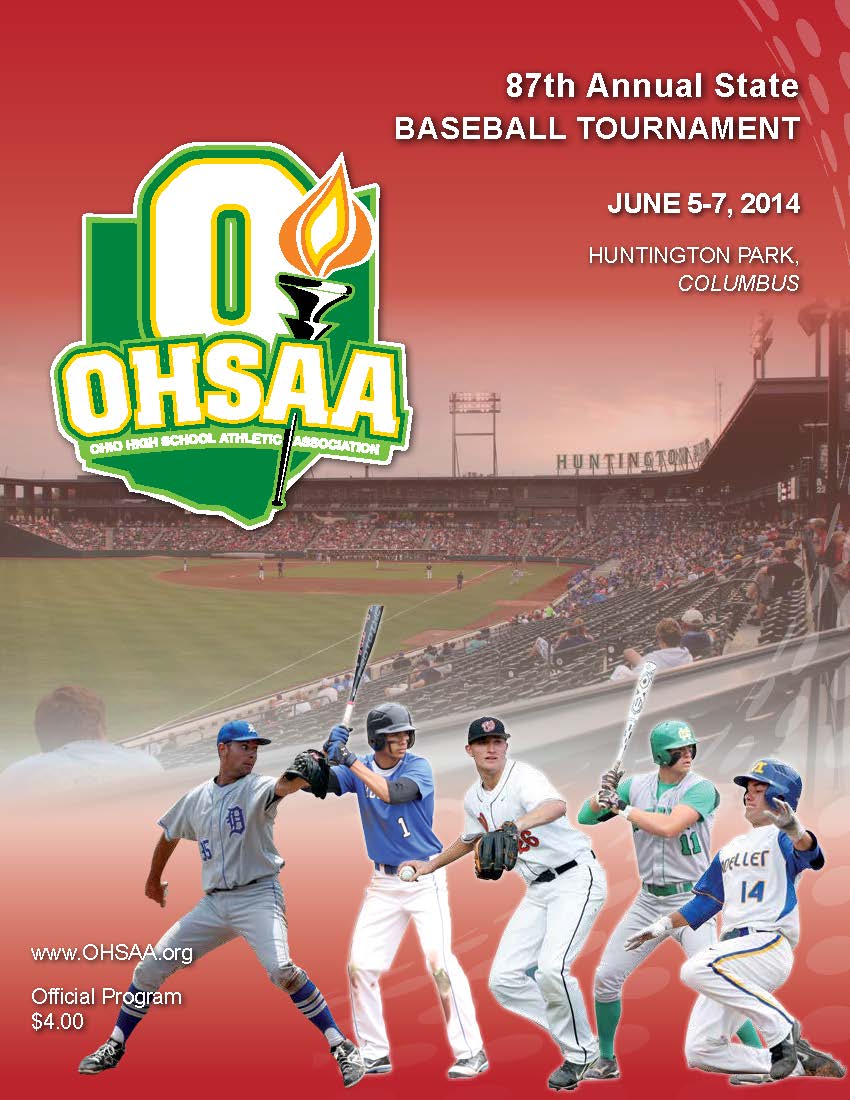 Order 2014 State Baseball Tournament Programs



The Official Ball of the OHSAA Championships


Directions, Hotels, Tickets, Gear, Programs, DVDs