Order your championship photos today!
OHSAA Foundation Service Week
Boys Basketball Information
Tournament Information
Boys Basketball History
Boys Basketball News and Notes
Basketball Coaches Online State Rules Meeting
Sept. 26, 2014 - The 2014-15 OHSAA basketball coaches online state rules meeting will be posted here on Monday, Sept. 29. Note that officials have a separate online rules meeting that will be posted Oct. 15.
[ Online Rules Meeting Problem Troubleshooting ]

Do not attempt to view online rules meetings on Android Mobile Phone or Tablets.
In order to view the online presentation it is recommended that users use IE7.0 or higher; in addition Adobe Flashplayer must be installed on your PC; also, make sure your playback device (speakers) are working properly. Flashplayer is a free download from Adobe and can be downloaded from their web site at http://www.adobe.com/go/getflashplayer. OHSAA will not take phone calls or troubleshoot any user computer hardware or software problems.
May 5 - 2014-15 Basketball Rules Changes
2014 Associated Press State Polls: Jan. 6 | Jan. 13 | Jan. 20 | Jan. 27 | Feb. 3 | Feb. 10 | Feb. 17
Questions About "Off-Season" Basketball? Click Here
2014 Sectional, District & Regional Tournament Information
2014 State Tournament Information
Tournament Information for Fans
Basketball Rules Changes Address Allowance of Head Coaches on Court
May 9, 2013 - Five rule changes were approved by the National Federation of State High School Associations (NFHS) Basketball Rules Committee at its April 15-17 meeting in Indianapolis. All rules changes were subsequently approved by the NFHS Board of Directors. Click here to read more.
2014-2015 OHSAA
Boys Basketball Calendar
Aug. 4 - Sept.1, 2014
Coaches' No Contact Period
Nov. 7
First Day of Coaching
Nov. 28
First Day High School Preview Permitted
Dec. 5
Season Begins
Feb. 9, 2015
Non-Interscholastic Competition No Longer Permitted
Feb. 15, 2:00 p.m.
Sectional Tournament Draw
Feb. 23 - Mar. 7
Sectional Tournament
Mar. 9-14
District Tournament
Mar. 16-21
Regional Tournament
Mar. 26-28
State Tournament
Coaches' No Contact Period Begins on the first day after the last interscholastic contest and ends 28 days later.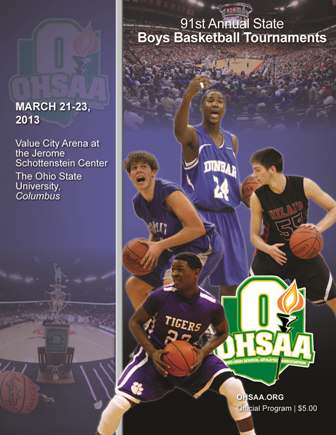 Order 2013 State Tournament Programs