Order your championship
photos today

Boys Soccer Information
Tournament Information
Boys Soccer History
Boys Soccer News and Notes
Important Soccer Information:
2014 Ohio Soccer Weekly
OHSAA Assistant Commissioner Jerry Snodgrass provides a soccer notebook throughout the season featuring FAQs and other points of emphasis. Click here to read.
2014 Sectional/District/Regional Tournament Information
2014 State Coaches Polls: Sept. 1 | Sept. 8 | Sept. 15 | Sept. 22 | Sept. 29 | Oct. 6 | Oct. 13 |
2014 State Championships
Saturday, November 8, Columbus Crew Stadium
Tournament Information for Fans
2013 NFHS Soccer Rule Changes Release
Feb. 7 - Clarifying when and how coaches can communicate with players highlighted the high school soccer rules changes approved by the National Federation of State High School Associations (NFHS) Soccer Rules Committee at its January 21-23 meeting in Indianapolis. Click here for more.
2013 State Soccer Tournament Coverage, Stats & Recaps
Aug. 1
First Day of Coaching
Aug. 2
First Day H.S. Preview Permitted
Aug. 16
Season Begins
Sept. 22
Non-Interscholastic Competition No Longer Permitted
Oct. 5
2:00 p.m. - OHSAA Tournament Draw
Oct. 13-18
Sectional Tournament
Oct. 20-25
District Tournament
Oct. 28-Nov. 1
Regional Tournament
Nov. 5 - 7:00 p.m.
State Semifinals
Nov. 8
State Finals

Coaches' No Contact Period begins on the first day after the last interscholastic contest and ends 28 days later.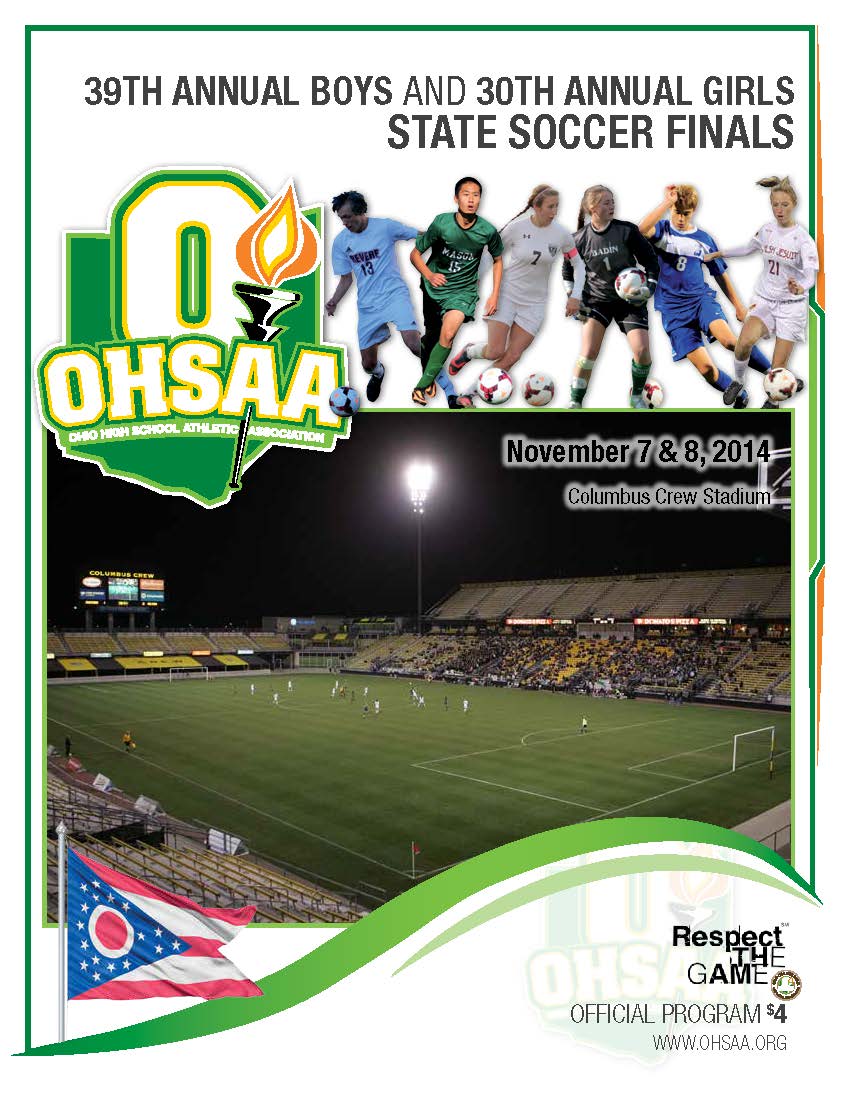 Order Programs from the 2014 State Soccer Championships