Volleyball Information
Tournament Information
Volleyball History
Volleyball News and Notes
Volleyball Coaches Rules Interpretation Meeting
The online volleyball rules interpretation meeting will be offered Tuesday, July 26 at 4 p.m. – Wednesday, August 31 at 11:59 p.m. There will be NO face-to-face meetings offered. The meeting must be completed online within the above date range. After Wednesday, August 31, there will be a $50 late fee to view the meeting. The completion of the rules interpretation meeting is mandatory for tournament participation. You will be able to access the online rules meeting on this page, beginning July 26 at 4 p.m., as well as instructions on how to complete/view the meeting. Once the online rules meeting goes live on July 26, you will need your School ID number to access the meeting. We will have a list of School ID numbers posted when the rules meeting goes live, or you may ask your Athletic Director for your School ID number.
OHSAA Associate Commissioner Dr. Deborah Moore will provide a volleyball notebook featuring FAQs and other points of emphasis throughout the season.
New Volleyball Uniform Regulation Memo
Jan. 22, 2016 - Please see the following memo for a reminder of the new NFHS volleyball uniform regulations that go into effect with the 2016 season. Click here for the memo.
2015 State Tournament Information
November 12-14, 2015 - Ervin J. Nutter Center, Wright State University, Dayton
2015 Sectional/District/Regional Tournament Information
2015 OHSVCA State Coaches Polls:
Sept. 15 - Week 1 | Sept. 21 - Week 2 | Sept. 29 - Week 3 | Oct. 5 - Week 4 | Oct. 12 - Week 5 | Oct. 19 - Week 6 (FINAL)
Jan. 26, 2015 - 2015-16 Comments On NFHS Volleyball Rules
Jan. 26, 2015 - 2015-16 Volleyball Rules Changes Include Updated Penalties for Unnecessary Delays
Nov. 20, 2014 - Molten to Continue as Official Volleyball of the OHSAA Through 2019
2016 OHSAA Girls Volleyball Calendar
Aug. 1
First Day of Coaching
Aug. 2
First Day Preview Permitted
Aug. 20
Season Begins
Sept. 26
Non-Interscholastic Competition No Longer Permitted
TBD
OHSAA Tournament Draw
Oct. 17-22
Sectional Tournament
Oct. 24-29
District Tournament
Oct. 31 - Nov. 5
Regional Tournament
Nov. 10-12
State Tournament
Coaches' No Contact Period begins on the first day after the last game and ends 28 days later.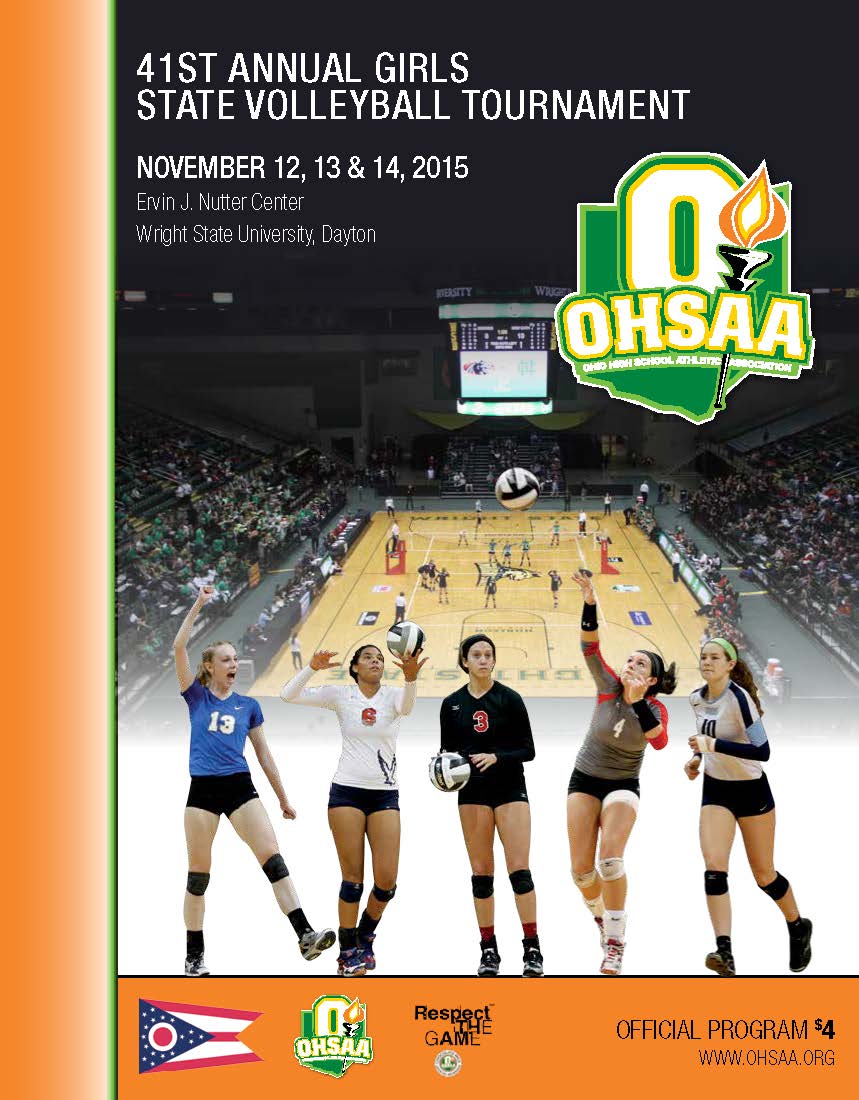 Order Programs from the 2015 State Volleyball Championships
The Official Ball of the OHSAA Championships