OHSAA State
Girls Volleyball Tournaments
November 7-9, 2013
Ervin J. Nutter Center, Wright State University, Dayton
Volleyball Information
Tournament Information
Volleyball History
Volleyball News and Notes
2014 NFHS Volleyball Rules Changes
State Tournament Information
Thursday, November 7

12:00 p.m.

Division I Semifinal #1
Toledo St. Ursula Academy def. Columbus St. Francis DeSales
Scores 25-16, 25-10, 25-16

2:00 p.m.

Division I Semifinal #2
Cincinnati Mount Notre Dame def. Hudson
Scores 25-10, 25-16, 18-25, 25-13

4:00 p.m.

Maria Stein Marion Local def. McComb

Scores 25-14, 25-16, 21-25, 25-18

6:00 p.m.

Division IV Semifinal #2
Cleveland Villa Angela-St. Joseph Academy def. Newark Catholic

Scores 27-25, 25-21, 25-18

Friday, November 8

12:00 p.m.

Division III Semifinal #1
Versailles def. Upper Sandusky

Scores 25-22, 23-25, 25-22, 25-19

2:00 p.m.

Division III Semifinal #2
Gates Mills Gilmour Academy def. West Lafayette Ridgewood

Scores 25-17, 25-6, 25-16

4:00 p.m.

Division II Semifinal #1
Kettering Archbishop Alter def. Dover

Scores 25-23, 25-20, 25-15

6:00 p.m.

Division II Semifinal #2
Parma Padua Franciscan def. Cleveland Heights Beaumont

Scores 25-22, 25-20, 18-25, 25-18

Saturday, November 9

11:00 a.m.

Cincinnati Mount Notre Dame def. Toledo St. Ursula Academy

Scores 25-27, 25-23, 25-19, 26-24

1:00 p.m.

Maria Stein Marion Local def. Cleveland Villa Angela-St. Joseph Academy

Scores 25-16, 25-22, 25-23

3:00 p.m.

Versailles def. Gates Mills Gilmour Academy

Scores 26-24, 25-23, 22-25, 23-25, 15-11

5:00 p.m.

Parma Padua Franciscan def. Kettering Archbishop Alter

Scores 23-25, 25-12, 25-21, 25-21
OHSVCA State Coaches Polls: Sept 10 | Sept. 17 | Sept. 23 | Sept. 30 | Oct. 7 | Oct. 14
OHSAA Associate Commissioner Dr. Deborah Moore will provide a volleyball notebook featuring FAQs and other points of emphasis throughout the season. Click here for more information.
Signal Sequence for Officials Altered in High School Volleyball
Jan. 31- In an effort to improve the flow of play in high school volleyball, the National Federation of State High School Associations (NFHS) Volleyball Rules Committee has altered the signal sequence for officials. Click here to read more.
Sectional/District/Regional Tournament Information
Tournament Information for Fans
2012 State Tournament Coverage, Stats & Recaps

2013 OHSAA Girls Volleyball Calendar
Aug. 1
First Day of Coaching
Aug. 16
First Day Preview Permitted
Aug. 17
Season Begins
Sept. 23
Non-Interscholastic Competition No Longer Permitted
Oct. 6
2:00 p.m. - OHSAA Tournament Draw
Oct. 14-19
Sectional Tournament
Oct. 21-26
District Tournament
Oct. 28-Nov. 2
Regional Tournament
Nov. 7-9
State Tournament
Coaches' No Contact Period begins on the first day after the last game and ends 28 days later.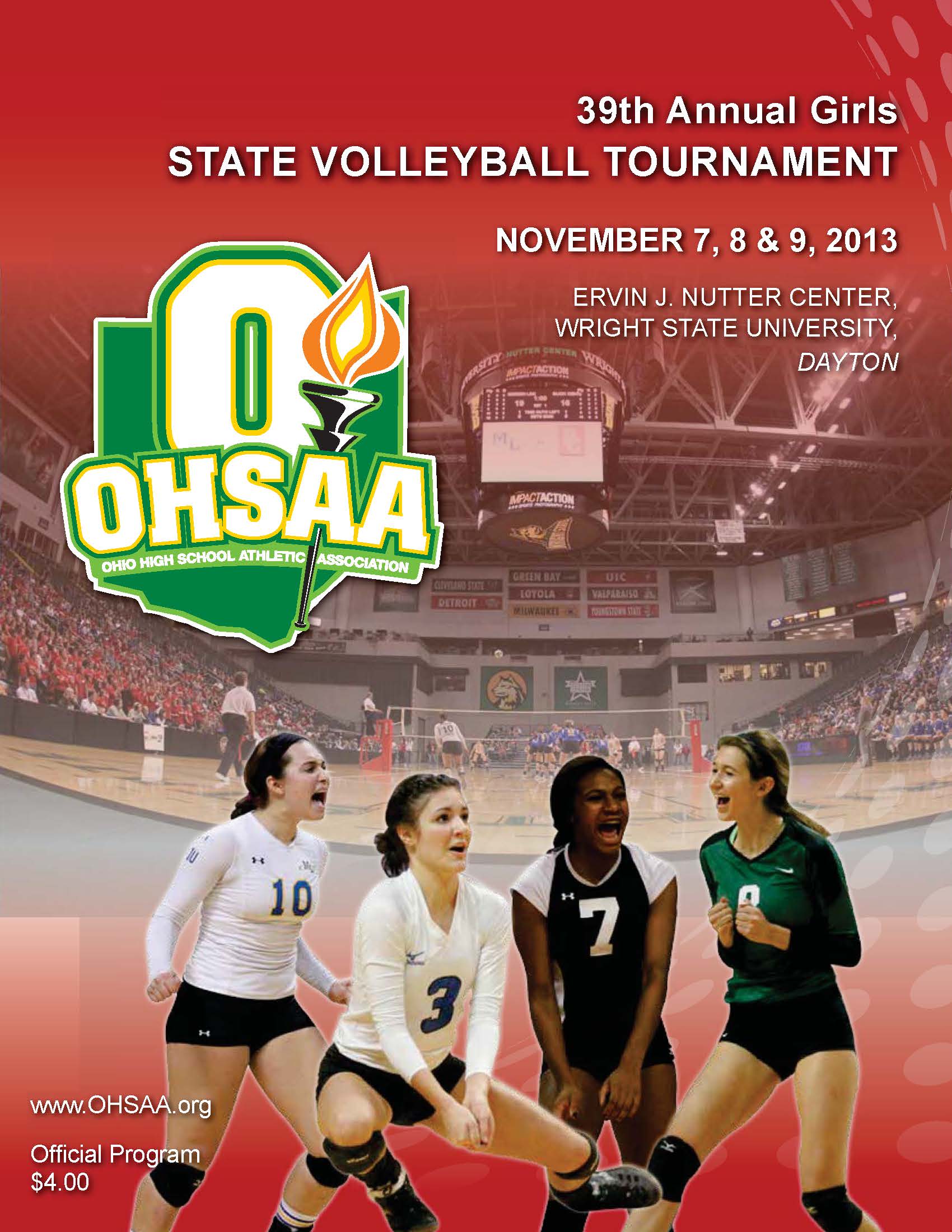 Order Programs from the 2013 State Volleyball Championships
The Official Ball of the OHSAA Championships